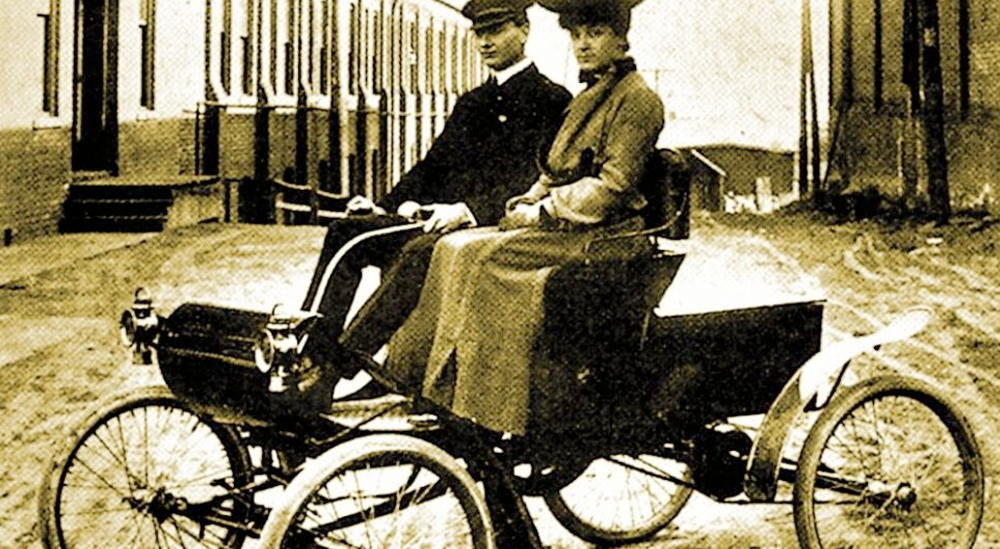 1901-'03 Oldsmobile Curved Dash Runabout
What better way to commemorate our landmark 100th issue than to list the Top 100 American collector cars ever made. It was a laborious, engaging task that every Hemmings editor participated in. First and foremost, the cars chosen are clearly the most popular models among both enthusiasts and collectors, which is one of the primary reasons they have been selected. Moreover, each car selected had to have been a production model, meaning that more than just a prototype or two was built. Most importantly, the value of a car did not factor into the equation, because, as all true enthusiasts know, just because a car has a high price tag doesn't mean it's a highly desirable collectible.While some of the selections will certainly raise an eyebrow or two, our methodology was based on the fact that each of the Top 100 cars had to include all of the following attributes: Collectibility, Desirability, Hallmark Status, Distinctive Styling, and Popularity; and with a little bit of our own gut instincts thrown into the mix.
1910-'12 Oldsmobile Limited
1
1901-'03 OLDSMOBILE CURVED DASH RUNABOUT
The Olds Motor Works Model "R" Curved Dash Oldsmobile has the distinction of being the first mass-produced automobile built and sold in America, and this country's first best-seller. This charmingly usable single-cylinder, tiller-steer runabout, with its distinctive footboard shape, has been a pillar of the collector-car hobby from day one.
1906-'14 Stanley
2
1908 SIMPLEX 50 SPEED CAR
The Simplex was one of America's original "fine cars." The Model 50 Speed Car had an elemental body with stylishly functional mud guards. Its rear wheels were chain-driven via a durable 50hp, 587-cu.in. T-head engine and four-speed gearbox. Sterling quality, Indy 500 racing heritage and classic prestige equals perpetual desirability.
3
1908-'27 FORD MODEL T
Literally the car that put the world on wheels, Henry Ford's best-selling Model T is arguably the most important car ever built. Rugged, simple to drive and maintain and amazingly configurable for virtually any need, the Tin Lizzie, in all its body styles, remains affordable fun for the masses, whether you prefer brass, nickel or "black."

4
1910-'12 OLDSMOBILE LIMITED
Oldmobile's luxurious limited-production Limited was the first flagship of the newly formed General Motors fleet. It was a legend in its day, thanks to the famous painting of its victorious race against the "20th Century Limited" train. This massive motorcar remains one of the most legendary pre-war American cars to ever turn a 42-inch wheel.
5
1906-'14 STANLEY
The Stanley Motor Carriage Company built the most famous steam-powered automobiles of the pre-war era, helped by their land speed record runs. Stanley production was low, but the examples that remain today are enthusiastically maintained and driven on long tours. "Alternate power" motoring has never been as fun as it is in a Stanley steamer.
6
1911 MERCER 35R RACEABOUT
The boldly painted, barrel-back bucket seat, monocle-windscreen Mercer R Raceabout was America's first genuine purpose-built sports car, a light and fast road car that won five of the six major races it entered in 1911. Later Raceabouts set world speed records. Few were built, and the handful of remaining cars are highly valued.
7
1912-'16 STUTZ MODEL A BEARCAT
Stutz earned its fame at the first Indianapolis 500 race, and the subsequent 60hp four-cylinder and 70hp six-cylinder Bearcat sports cars were fierce racing competitors, even in straight-off-the-showroom-floor form. One hundred years later, this sparsely equipped, elemental-bodied roadster still remains the buzzword for Brass-era power.
8
1928-'31 FORD MODEL A
"Henry's lady" was not only wildly popular when new, it was the car that energized generations of collectors in the 1960s and 1970s, also inspiring the reproduction auto parts industry. With the standard Model A's hundreds of body and trim configurations, as well as sturdy truck variants, the handsome vehicle offers something for everyone.
9
1929-'37 DUESENBERG MODEL J/SJ
The legendary Duesenberg was America's answer to the stoic Rolls-Royce, an immensely powerful car whose advanced engineering–courtesy of Fred and Augie Duesenberg–and eye-catching, jaw-dropping coachbuilt bodies–the legacy of E.L. Cord–made the Model J the Depression-era car to own, if you could afford it… and the same is true today.
10
1929-'32 CORD L-29
Who would think that front-wheel drive, so ubiquitous today, could be the reason behind one of the most beautiful cars of the late 1920s? The low, wide stance that FWD offered allowed for the Cord's rakish, windswept design, and its Lycoming straight-eight had power to match. The forward-thinking L-29 has always been an object of aspiration.
1933-'37 Cadillac V-16 Aero-Dynamic Coupe
11
1927-'29 LA SALLE
Cadillac's junior "companion car" was a stunner upon introduction, thanks to its clean Hispano-Suiza-inspired styling and fresh trim and color palette, the inspired work of future GM design director Harley Earl. Not just a pretty face, the reasonably priced V-8 La Salle could also run. It's been a popular favorite for decades.
1933 Pierce-Arrow Silver Arrow
12
1930-'40 CADILLAC V-16
Cadillac proved its world-class engineering with the fabled Series 452 Sixteen, which combined a smooth-running, artfully designed V-16 with some of the most legendary coachwork on the road. Nearly 70 available body styles and countless color and trim options meant most examples were unique. In the ultra-luxury world, more was always better.
13
1931-'34 REO ROYALE 8
Sweeping fenders and a deeply V'd grille accented the beautiful body of the rare and regal Reo Royale 8, which was penned by Murray's chief body designer, Amos Northup. With that body and a smooth straight-eight engine, the 1931-'34 Royale 8 earned its place on the list of the CCCA's Full Classics, and in the hearts of discerning collectors.
1934-'37 Chrysler and De Soto Airflow
14
1931-'32 AUBURN SPEEDSTER
Perhaps the most striking body style to ever grace an automobile chassis was the boattail speedster, and nobody did that better than Auburn's Alan Leamy. The rakish, reasonably priced Speedster, introduced in 1931 with straight-eight power, was perfected with 1932's V-12 under a lengthened hood. Bon vivants loved it then; everyone loves it now.
15
1932-'33 CHRYSLER CL CUSTOM IMPERIAL
Walter P. Chrysler's cars were among the most handsome on the road in the early 1930s, when his chief body designer, Oliver Clark, gave them a Cord-inspired radiator grille treatment. This was most impressive on the long-wheelbase Custom Imperial, with its semi-custom coachwork bodies. Chrysler played on Cadillac turf with this classic beauty.
16
1932 FORD V-8
The car that brought power to the people, Ford's Model 18 V-8 proved you didn't have to be wealthy to have more than six cylinders under the hood. Wrapping that V-8 in a well-proportioned shell was the icing on the cake; 15 years later, hot rod culture was born. Millions of fiberglass replicas can't be wrong, but the real deal is still the best.
17
1932 PACKARD TWIN SIX
Recalling Packard's premium luxury motorcar of the Teens was the romantically named Ninth Series Twin Six, featuring the company's smooth new V-12. Two wheelbases and a vast array of cataloged body styles, from formal Town Cars to rakish Sport Phaetons, meant there was something for all well-heeled buyers who sought the finest then, and still do today.
18
1933-'37 CADILLAC V-16 AERO-DYNAMIC COUPE
A show car that entered extremely limited production with a legendary engine and a sleek, forward-thinking, steel-intensive body, the Aero-Dynamic Coupe gracefully showed the direction in which GM design and engineering would be headed in the next decade. The few examples known to remain are considered among the most prized Cadillacs ever built.
1936-'37 Cord 810/812
19
1933 PIERCE-ARROW SILVER ARROW
For a struggling luxury automaker in the Great Depression, Pierce-Arrow took a huge risk with their breathtaking Silver Arrow, shown to great acclaim at the 1933 New York Auto Show. Five of these sleek and trend-setting $10,000 cars were eventually built and sold, and they remain the crown jewels of any American luxury marque collection.
20
1934-'37 CHRYSLER AND DE SOTO AIRFLOW
It's not overstatement to say that the Chrysler and De Soto Airflows rewrote the automotive design and engineering rulebook; they combined proven aerodynamic principles with state-of-the-art body and suspension design in an age when convention was king. The public turned up its collective nose then, but these daring cars are highly sought today.
21
1934 PACKARD TWELVE SPORT COUPE BY LEBARON
The artists at LeBaron created one of the most dramatic designs of the 1930s in the 135-inch-wheelbase Eleventh Series Packard Twelve Sport Coupe. This curvaceous fastback's roofline and pontoon fenders were juxtaposed with edgy triangular quarter windows and the unmistakable Packard radiator grille. Who doesn't desire this dream realized in metal?
22
1934 PIERCE-ARROW TWELVE CONVERTIBLE COUPE
The mid-1930s streamlining zeitgeist influenced even fine automaker Pierce-Arrow, which had been incorporating headlamps into the front fenders, modern-style, for decades. The 1934 1240A Convertible Coupe sported a shield-like grille, deeply skirted fenders and taillamps that rose smoothly out of the rear fenders like the headlamps: class, personified.
23
1935 AUBURN 851 CABRIOLET
The Auburn was the Jaguar of its day, combining speed, elegantly sporty styling and a surprisingly affordable price. Factor in the 1935 851 Cabriolet's swoopy fenders, piercing grille and chromed bullet headlamps, and you had an open car that turned heads like nothing else. Few cars looked as good as the Auburn, and few are so coveted today.
24
1936-'37 GRAHAM SUPERCHARGER
A small independent automaker like Graham could think outside of the box; already famous for its inspiring Amos Northup designs, Graham also set trends under the hood. The curvaceous 1936 Superchargers–especially the desirable Coupe and Convertible Victoria–had the power to back up their style, and smart collectors appreciate true innovators.
25
1936 LINCOLN K CONVERTIBLE ROADSTER
Lincoln's mighty Model K flagship was in its last year of a traditional appearance, with separate bullet-shaped headlamps that paired beautifully with pontoon-style fenders. Also visually pleasing were the K's rakishly canted windshield and grille. With classic style and V-12 power, the always-understated Lincoln K rewards discerning taste.
1937 Lincoln-Zephyr Coupe
26
1936-'37 CORD 810/812
Few cars have shaken the status quo as much as did Gordon Buehrig's masterpiece, the iconic front-wheel-drive Cord 810/812. From their hidden headlamps and radiator to their aviation-inspired instrumentation, these cars defined Streamline Moderne style on four wheels. Their relative accessibility has only reinforced their must-have status.
27
1937 LINCOLN-ZEPHYR COUPE
The streamlined Lincoln-Zephyr rocked the automotive world upon its introduction in 1936, bringing John Tjaarda's advanced streamline design into production form. That car, especially the jaw-dropping three-passenger Coupe, received styling refinements for 1937 that made it even more popular with buyers; it's surprisingly affordable today.
28
1937 STUDEBAKER DICTATOR COUPE
Studebaker's 1937 Dictator Coupe exhibited such a spare fleetness of line as to look perfectly windswept. Raymond Loewy Associates gave this car the tall, thin "Winged Victory" grille, whose horizontal bars ran back down the hood sides like perfect speed lines. Add skirted fenders and a dramatic rear window and you have an Art Deco masterpiece.
29
1940 BUICK SERIES 60 CENTURY PHAETON
The 1940 Buick Century was a hot performer, combining the firm's 141hp straight-eight engine with the lightest 126-inch-wheelbase cars. With just 194 built, the Century Phaeton was one of the rarest, and, to many, best-looking Buicks available that year. Collectors still crave its unique blend of modern road manners and classic open four-door style.
30
1938-'40 GRAHAM SPIRIT OF MOTION
Following in the footsteps of the controversial Airflow, Graham's Spirit of Motion cars, AKA the "shark nose" models, were truly polarizing vehicles. Those drawn to their forward-thrusting faces found coupes and sedans that were efficient in line and action. These low-production Grahams remain wild, even 70 years later, and are hugely collectible.
31
1939 FORD DE LUXE
E.T. Gregorie's handsome 1939 Ford De Luxes benefited greatly from their low, wide grilles and beautifully integrated headlamps. They were both the end of an era (last rumble-seat convertible and convertible sedan) and the start of something new (Lockheed hydraulic brakes, upgraded V-8 engine), and for that, they're on everyone's must-own list.
1949 Cadillac Series 62 Coupe de Ville
32
1937-'42 PACKARD 180 DARRIN CONVERTIBLE VICTORIA
Sunny Hollywood was the perfect place to reimagine a normally stuffy Packard with lithe and lively lines; Howard "Dutch" Darrin's Convertible Victoria, originally a one-off custom and later adopted for production, looked the part of the carefree rake with its cut-down doors. It has always been a movie star's car, and everyone wants that glamour.
1949-'50 Ford
33
1940-'41 LINCOLN CONTINENTAL
Many considered Edsel Ford's original Continental an instant collectible from day one; it certainly lived up to its name, with a rich presence and an elegant, European-inspired appearance. These essentially hand-built cars, in coupe and cabriolet forms, were like nothing else on the road, and they'll forever be on "best dressed" classic car lists.
34
1940-'41 WILLYS
With its high, pointed hood, low fenders, and curvy rooftop that flows into equally curvy rear fenders, it has a characteristically aggressive stance that both purists and hot rodders are magnetically attracted to. Everything about this Willys centers on its shape, a shape that has come to define what hot rodding is all about.
35
1941 CADILLAC CONVERTIBLE COUPE
Perfectly proportioned for its size, it has all the right shapes. The extended fenders, gorgeous and expansive grille, tasteful hood vents, elegant side trim and rear wheel spats all combine to make a hallmark Cadillac design. Big flathead V-8 power and an ultra-smooth ride make it a dream to drive. This is perhaps the most affordable Full Classic that money can buy.
36
1946-'47 PACKARD CUSTOM SUPER CLIPPER CLUB COUPE
This breathtakingly beautiful automobile is nothing less than pure rolling sculpture, surpassing in grandeur even the finest European coachbuilt Classics. Its fastback form is fluid motion, and is backed by the traditional Packard detailing, build quality and spacious interior. And that straight-eight power is ideal for smooth, relaxed cruising.
37
1946-'48 CHRYSLER TOWN AND COUNTRY
Available in either sedan or convertible body styles, all T&C's feature the same gorgeous exterior wood frame and paneling construction that make them a sensational standout. Just 8,368 were built over a three-year period; the '46 versions are the only ones with real wood paneling. Nonetheless, they are all equally sought after, and are the only post-war cars given Full Classic status by the Classic Car Club of America.
38
1948 TUCKER 48
Unique styling, cutting-edge engineering, limited production and the intrigue surrounding its production and subsequent failure that turned it into a Hollywood legend of the silver screen make the Tucker a candidate for one of the Top 10 collector cars of all time. It's one of a few cars that even non-car people know a lot about.
39
1949 CADILLAC SERIES 62 COUPE DE VILLE
All 1949 Cadillacs are desirable, but the Coupe de Ville is the prettiest and rarest of them all, with just 2,150 built. Its beauty lies in its proportionally perfect shape, enhanced by a beautiful grille, understated tailfins, tasteful chrome side trim and Cadillac's first post-war overhead-valve V-8 engine. A true milestone car.
1950-'53 Nash Rambler Convertible Coupe
40
1949-'50 FORD
Its pioneering "shoebox" design was a huge hit back in the late 1940s, and is still beloved by Ford fans today. Its shapely, compact size and ideal proportions, when combined with one of its many striking two-tone color combinations, render it an exceptional standout amongst its peers.
41
1949 OLDSMOBILE 88
A historical landmark that set the world on fire with its then-unheard-of mating of Oldsmobile's new and powerful overhead-valve V-8 with a mid-size body; the combination transformed it into a highway screamer, the likes of which the public had never seen before. Its "Rocket" engine quickly became legendary, and still is.
42
1949 MERCURY TWO-DOOR COUPE
Its matchless appearance combines a sleek shape with a menacing stare; the look made this Mercury into a true legend from the minute it was announced. It's tough, it's mean, and it just looks oh, so right with its distinctive grille. And with its flathead V-8, you got the quintessential classic coupe to go cruising in.
43
1950-'53 NASH RAMBLER CONVERTIBLE COUPE
It's a coupe. It's a convertible. And it's very cute. Unusual in appearance, this innovative Rambler is loaded with personality that is as distinctive as they come. Endowed with a body shape like no other, it's a real traffic stopper, and is the kind of fun car that people want to own these days.
44
1951-'53 HUDSON HORNET CLUB COUPE
Handsome looks, fantastic handling abilities, abundant power and the NASCAR mystique make it one of the most desirable cars from the '50s, especially when fitted with the Twin-H dual carburetor setup that transforms it into a true performance car. It has a nicely detailed instrument panel and an interior that is loaded with quality craftsmanship.
45
1953-'54 BUICK SKYLARK CONVERTIBLE
Incredibly robust styling backed by smooth V-8 power and a very limited production run make these Skylarks among the most collectible of all Fifties-era cars. Although 1,690 were made for 1953, compared to just 836 1954 models, the '53 versions are the more desirable models because they are essentially handmade and more strikingly designed.
46
1953 CHEVROLET CORVETTE
First-year models are always the most sought after, especially when it's the lowest production year. Such is the case with the first-year Corvette; only 300 were built. With so many fanatical Corvette fans out there and with so few available, this may very well be the most desirable Corvette of all time. Great style and an incomparable design back up that appeal.
1953 Packard Caribbean Convertible
47
1953 OLDSMOBILE FIESTA CONVERTIBLE
It has all the equipment that buyers of quality Fifties cars want: convertible top, two-tone exterior and interior, automatic transmission, fender skirts, power windows and the desirable Fiesta interior with power seats and Fiesta steering wheel. With a price tag of $5,715 back in 1953, it's easy to see why only 458 were built. With so few Fiestas around today, they rarely come up for sale.
1953 Studebaker Starliner Coupe
48
1953 PACKARD CARIBBEAN CONVERTIBLE
This car exudes class in a reachable way that many enthusiasts find oh, so captivating. The massive grille gives it a masculine appeal in the Packard tradition, and its spacious, comfortable interior is finely crafted, with lots of quality throughout. Its straight-eight power is plentiful, and with just 750 built, you're guaranteed a certain amount of exclusivity.
49
1953 STUDEBAKER STARLINER COUPE
Its innovative shape was not only aerodynamic, but beautiful, too, and it's still turning heads 60 years later. It has become an iconic symbol of all that was new and fresh with the prosperity boom of the 1950s, and is still admired with astonishment by all who gaze upon its clean design.
1954 Chevrolet Bel Air Sport Coupe
50
1954 CHEVROLET BEL AIR SPORT COUPE
Hot on the heels of the Tri-Five models in popularity is the '54, and has been for many years. These cars sport a more traditional Fifties look, with defined proportions that are invigorating to look at. And their more affordable values make them a more advantageous buy for mainstream enthusiasts.
1954-'61 Nash Metropolitan
51
1954-'61 NASH METROPOLITAN
Everyone appreciates what the little Met is all about. Its highly distinctive shape is as cute as they come, and its endearing, colorful charm puts this model in a league inhabited by few other cars. Never has such a fun-to-drive car been so affordable to buy.
52
1955 CHEVROLET BEL AIR
From the first day it was shown to the public, it was blessed by a look and demeanor that everyone liked; it's still appreciated today. From its eggcrate grille to its subtle tailfins, and the all-new overhead-valve V-8 under its hood, it was a model that both young and old wanted. One of few cars that looks fantastic in either stock or modified form.
53
1955 CHRYSLER C300 HARDTOP
Big, bold and powerful, yet blessed with a handsome elegance that embodies upscale Fifties-era design. Its cast grille is a spectacular piece of metal sculpture, while its well-appointed interior is enhanced by a beautiful instrument panel loaded with fine details that delight the eye. Only 1,725 were built.
1957 Chevrolet Bel Air
54
1955-'56 FORD THUNDERBIRD
Rarely does the same car attract two different buyers. Purists prefer the basic '55, while others go for the more dolled-up '56; either model offers a fun, two-seat sports-car-like experience with great styling to match, all enhanced with V-8 power and performance.
1957 Chrysler 300C
55
1956 CHEVROLET BEL AIR
The second offering of the Tri-Five triumvirate is extremely popular, with its own loyal fan base. It has nearly the same persuasive looks as the '55 and '57 models, with power to back up its handsome presence; its distinctive, wide grille lends it a very upscale charisma.
56
1955-'56 FORD CROWN VICTORIA SKYLINER
Talk about being unique. While its calling card is its green Plexiglass roof, the styling itself is strikingly attractive. From the eyebrows over the headlamps and pointed nose to the distinctive downswept side trim that continues into its signature round taillamps, it's an alluring package.
57
1956-'57 CONTINENTAL MARK II
In the age of excess chrome and decoration, the clean, conservative-looking Mark II was a breath of fresh air, and has remained so even today. Its design is classy and sophisticated without being elitist. Detailing throughout is completely first-class.
58
1957 CHEVROLET BEL AIR
It may well be the most iconic collector car of all time, regardless of body style. It features all the details that Americans want in an old car: pointy fins, big grille, acres of chrome, loads of decorative embellishment and a high-revving small-block V-8 under the hood. And bright color combinations, too. Need we say more?
59
1957 CHRYSLER 300C
New styling, new torsion-bar suspension and a very powerful 375hp Hemi V-8 combined with a very limited production run make the 300C one of the rarest post-war Chryslers; rarer still are the 18 models that were ordered with the optional 390hp engine. All told, just 484 convertibles and 1,767 hardtops were built.
60
1957 FORD FAIRLANE SKYLINER
Besides its fantastic styling and prominent tailfins, its retractable hardtop is one of the most innovative body features of all time–one that never fails to attract the attention of all who see it in action. Built for only 1957-'59, all the models are special, but the '57s are considered the most collectible.
1961 Pontiac Ventura Hardtop
61
1957 FORD THUNDERBIRD
Tweaking the T-Bird's design to incorporate a larger, more contemporary-looking grille-bumper assembly and more pronounced fins in the rear made the little two-seat convertible more popular than ever. Regardless of engine option, they're all powered by a V-8, so all versions are regarded as blue-chip collectibles.
1962 Pontiac Grand Prix
62
1957 PONTIAC BONNEVILLE CONVERTIBLE
This one-year-only Bonneville has it all: Individual styling, spectacular fins, well-appointed interior, powerful 317hp V-8, convertible top and the distinction of being equipped with the rare Rochester fuel injection system. All told, only 630 were made, making it one of the most sought-after collector cars from the '50s.
63
1957-'58 CADILLAC ELDORADO BROUGHAM
A handbuilt masterpiece in the finest Cadillac tradition: That is the Eldorado Brougham. From its multi-piece, hand-welded stainless-steel roof to its hand-fitted body panels and hand-stitched leather upholstery, no wonder they each cost nearly $14,000. Just 400 1957 models and 304 1958 models were made, making these among the most exclusive Cadillacs of all time.
64
1958 CHEVROLET BEL AIR
Every inch of the Bel Air's body can be considered nothing less than pure sculpture. From any angle, it's a compelling design, regardless of body style. Only recently have enthusiasts come to appreciate the charismatic appeal of this one-year-only design; the most desirable models are those fitted with the 348-cu.in. big-block V-8.
1965 Buick Riviera GS
65
1958 CHRYSLER 300D
One of the more popular Letter cars, thanks to its clean lines, incomparable eggcrate grille and slender fins. With just 191 convertibles and 618 hardtops produced, it's also one of the rarest Chryslers of the 1950s. And powerful, too, as it hides a dual-quad 380hp V-8 under its hood. It's one of the classiest-looking hardtops ever made.
66
1959-'60 BUICK ELECTRA 225 CONVERTIBLE
Simply radical. From its upswept front end to the pronounced body line that flows directly into its wildly shaped tailfins, these models are loaded with show-stopping looks that never fail to fascinate all who see them. Fine details abound throughout the exterior and interior, and the 325hp V-8 provides plenty of power. It looks sensational from any angle.
67
1959 CADILLAC COUPE DE VILLE
If there WERE a Top 10 list, this Cadillac would be in it. It's held in high regard by even non-car people, such is its iconic shape. Its fins defined Detroit excess like no other, while its overall shape ticks all the right buttons. It's big, bold and incredibly striking, regardless of body style–clearly a winner.
1967 Pontiac GTO
68
1959 CHRYSLER 300E
With just 647 built, the 300E had the lowest production of the late 1950s 300 Letter cars. Stir in Exner's clean Forward Look style, and this one is an underrated classic. And with Chrysler's new 413-cu.in. Golden Lion wedge-head V-8 matching the just-discarded Hemi's 380hp power rating, the 300E has plenty of power, making it a blast to drive.
1968-'69 AMC AMX
69
1959 DE SOTO ADVENTURER
The top-of-the-line Adventurer is the ultimate iteration of Exner's Forward Look styling, which is why it's such a sensational-looking automobile. It sports a dual-quad V-8, so it's quite powerful, and the welcoming interior is filled with personality. Convertible versions are the rarest, and now outpace the Chrysler 300 in the big-Mopar collectibility race.
70
1960 CHRYSLER 300F
All Chryslers now rode a unit-body chassis for even greater roadability, playing to the 300's reputation as one of the era's most driveable cars. All-new styling featured a trapezoid grille, lower yet very stylish fins, and a one-year-only faux spare-tire trunklid. Swivel-out front buckets were standard, making this a fun, beautiful car to own, regardless of body style.
71
1961 CHRYSLER 300G
Canted headlamps on the 300G's restyled front end offered a modicum of modernity, while the trapezoidal grille was now wider on top than on the bottom, lending it an aggressive look. Other unique details include a ribbed trunklid and those fabulous fins, with integrated jet-inspired taillamps. Only 1,617 were built, making them highly sought after today.
72
1961 LINCOLN CONTINENTAL
Lincoln's new-for-1961 Continental was luxury unlike any American company had tried: Its styling was trim and formal, with smooth sides and an understated use of chrome, and its quality was arguably the best available at the time. The rear-hinged "suicide" rear doors became a visual calling card.
73
1961 PONTIAC VENTURA HARDTOP
Pontiac's Catalina-based Ventura two-door offered grace, space and pace, in an affordable, stylish package. With its thin-pillared "bubbletop" treatment, Pontiac made a roof that seemed to invite the outside world in; lower production numbers than comparable Chevrolet models make the Ventura very collectible.
74
1962 PONTIAC GRAND PRIX
First in a great line of automobiles sporting the badge, Pontiac's renamed Catalina coupe was one of the company's first attempts to offer a more European feel in its line. Minimal chrome, bucket seats, console and floor shifter were welcome changes, as were the 303hp V-8, inviting split grille and those distinguishing taillamps.
75
1963 CHEVROLET CORVETTE COUPE
Besides being the first Corvette coupe ever built, its boattail homage with its innovative split rear window was part of a body that had curves that could never be stamped in metal. A truly dramatic shape. It also wowed the other senses with fully independent suspension and an optional fuel-injected 360hp V-8.
76
1963 CHEVROLET IMPALA
The epitome of Americana rolled up into a single machine: luxurious but low-priced; equal parts flash and thrift; and an essentially solid, reliable bit of business. The 1963 restyling added long, low proportions, with the body coming to a point at either end to add visual length, with a restrained use of chrome.
1987 Buick GNX
77
1963 STUDEBAKER AVANTI
Low production, a mesmerizing-looking coupe shape formed in fiberglass, and the optional supercharged V-8 could render the Avanti collectible on its own. But the ultra-modern Avanti was so lovely and distinctive, it was built for another quarter-century after Studebaker folded. The first-year models with the round headlamps are the purest of the original design, making them the most desirable.
1990-'95 Chevrolet Corvette ZR1
78
1964 CHEVROLET CORVAIR MONZA SPYDER
As early Corvairs go, 1964 is the year to have: Softer rear springs and a camber compensator to help tame handling were standard, the larger-displacement flat-six more easily produced its 150hp, and you could get it in a sporting convertible form, too. It has all the most desirable early Corvair characteristics in a single package that is still very affordable.
79
1964-'65 FORD MUSTANG CONVERTIBLE
Long-hooded, short-decked and sportily styled, early Mustangs have touched generations of drivers and are still common enough today that they, and their mechanical and restoration parts, remain available and affordable. For cruising fun, even a straight-six-powered model will riffle what's left of your hair.
80
1965 BUICK RIVIERA GS
With inspiration taken from Ferrari and Rolls-Royce, the Riviera's knife-edge lines combine to produce an automobile design that is considered by many to be the most beautiful post-war American car of all. Inside oozed Rat Pack-era casual elegance; the Gran Sport version stiffened the suspension and added a dual-quad 425-cu.in. V-8, giving the GS uncommon performance to match its up-to-the-minute glamorous style.
81
1965 PONTIAC GTO
There is an understatement to the 1965 GTO that collectors and enthusiasts alike groove on. The basics shared the upright, crisply folded lines of the 1965 Tempest, with its new stacked-headlamp face and wraparound taillamps. Enhanced by its stylish wheels, hood scoop, dual exhaust and some subtle badging, this GTO's proportions are perfect.
82
1965-'66 SHELBY MUSTANG G.T. 350
The original G.T. 350 coupes were 306hp track-ready beasts with Galaxie axles and Goodyear Blue Dots. They are raw muscle machines with boy-racer aesthetics to match, thanks to their wide stripes, special wheels, tach and other year-specific accessories. They'll forever be considered the ultimate street-legal Mustangs to own.
83
1966 OLDSMOBILE TORONADO
The audacity of a 375hp front-wheel-drive personal-luxury car remains an eye-opener. Pop-up headlamps, slotted horizontal grille and vented steel wheels are a nod to the legendary Cord 810/812, but the fastback styling, with the roofline continuing unbroken into the trunk, is firmly modern. It was the most striking and original-looking car of its era.
84
1967 CADILLAC ELDORADO
Cadillac's first personal-luxury car was available only as a coupe, and featured a bold eggcrate grille; pronounced, chiseled fenders; and neatly tailored lines down its sides that resonate with collectors even today. A dazzling, magnetic design full of charisma.
85
1967 CHEVROLET CORVETTE L88
One of the most sought-after Corvettes ever. The 430-plus horsepower, 12.5:1 compression, 427-cu.in. L88 required 103-octane fuel; positraction, heavy-duty suspension and power brakes were mandatory, to handle that power. Costing $1,500 over the base $4,200-plus price, only 20 L88s were ordered for the 1967 model year; thus, it's one of the rarest Corvettes ever made.
86
1967 PONTIAC GRAND PRIX CONVERTIBLE
Any time a car is produced for only a single season, it invites collector attention. Not only was the body style a one-year-only design, but this was the only Grand Prix ever offered as a convertible; just 5,857 were built. Add in the unique eight-lug wheels and big 428-cu.in. V-8 and you have a full-size convertible that few other cars can match in terms of rarity, looks and performance.
87
1967 PONTIAC GTO
Stacked headlamps. Split grille. Hood scoop. Coke-bottle-shaped profile. Louvered taillamps. Styled steel wheels. Room for all your friends. Ballistic power. Together, they're an irresistible combination, and epitomize the term "muscle car." Although more than 81,000 1967 GTOs were built, each turned thousands of heads, and continues to do so today.
88
1968-'69 AMC AMX
Anytime there's a low-production V-8-powered two-seater, there's going to be collector interest. Barely 15,000 AMXs were built in 1968-'69, which keeps both rarity and interest high. They boast sporting lines, traditional long-hood/short-deck proportions, and a smattering of performance options to add spice, to say nothing of their arresting colors.
89
1969 CHEVROLET CAMARO Z/28
A one-year-only bodystyle, the 1969 Camaro offered an aggressive, chunky stance with gently blistered wheel openings; the Z/28 fulfilled the model's intent with a high-performance driveline. The Z/28 option saw just 20,302 built, which was less than 10 percent of total Camaro production.
90
1969 DODGE CHARGER
Elegant, shapely body lines and subtle contouring mixed with an aggressive face outside; under the skin, anything from a Slant-Six to a 425hp dual-quad Hemi could be ordered. But why the 1969 Charger? We'll give you 01 reasons why: The Dukes of Hazzard TV show tricked a nation of kids into thinking cars could fly.
91
1969 DODGE CHARGER DAYTONA
In an era of outrageous cars, this might top 'em all. A NASCAR homologation special, Dodge's Daytona incorporated a pointy sheetmetal nosecone, tall rear-mounted wing, flush rear window, standard 440 (and optional Hemi) power, stainless A-pillar covers, and more. Just 502 were made, which always boosts desirability.
92
1969 PONTIAC FIREBIRD TRANS AM
Just 689 hardtops and eight convertibles were built, making first-year Trans Ams a rarely seen muscle-era treat. All were white with blue stripes, and all received a Trans Am-only decklid spoiler; the mandatory heavy-duty suspension spoke to the T/A's unrealized SCCA road-racing hopes and dreams.
93
1970-'72 BUICK GSX
The GSX's bright paint-and-stripe scheme seemed out of character for Buick, but with 510-lbs.ft. of torque and a luxury feel, the GSX is the most compulsively driveable A-body of its generation. Buick pricing ensured low production numbers; mix in hot Stage 1 engine components for greater power and huge collectibility.
94
1970 CHEVROLET CHEVELLE SS
When polled, muscle car fans consistently put the 1970 Chevelle SS on top of their lists. Why? Is it the 450hp, 454 LS6 variant that puts it atop the heap? The bulging fenders? The Cowl Induction hood that put a scoop atop another scoop? Although more than 62,000 SS's were built, it's the car that Chevrolet fans want more than any other.
95
1970-'72 CHEVROLET CORVETTE LT-1
All Corvettes are collectible, given time, but the LT-1 optioned models offered a special, solid-lifter, high-revving small-block V-8 good for 370hp for 1970, making this the hottest carbureted small-block Corvette ever. It was also more expensive than a big-block model, offering less horsepower and torque, but the small-block endowed it with better handling balance. Just 4,977 were built.
96
1970 PLYMOUTH 'CUDA
Back in the day, the 'Cuda was kind of a marketing miss: It aimed for where the Camaro was the year before. But low production, choice of coupe or convertible, and any available Mopar engine from a Slant-Six to a Hemi V-8 and Hi-Impact colors make any E-body 'Cuda a Mopar collector's dream. Its shape is dramatic yet clean, relying on pure design instead of decorative trim.
97
1970 PLYMOUTH SUPERBIRD
The signature features of the Road Runner-based Superbird are its custom wind-cleaving nose and roof-high trunk wing, giving it the ultimate "wow" award. Just 1,920 were built for 1970 only, the least powerful of which had a four-barrel 440-cu.in. V-8. Bright Hi-Impact Paint schemes only amplify their presence, and their dominant NASCAR record solidifies their status among collectors.
98
1973-'74 PONTIAC SUPER DUTY TRANS AM
Only Pontiac truly raged against the dying performance light by offering their Super Duty package–good for 310/290 net horsepower–in 1973-'74. Dropping this very special V-8 in a low-slung, low-production sports GT like a hard-cornering Trans Am transformed it into the best all-around performance car of the era. Production ended with just 1,195 built.
99
1987 BUICK GNX
The sinister-looking GNX, a 547-unit special for Buick's turbo rear-drive Grand National, sported 16-inch wheels, flared wheel openings and engine tweaks that were supposedly good for 245 horsepower… but which, in reality, could stomp a mudhole in a new Corvette and walk it dry. It was an instant collector's item.
100
1990-'95 CHEVROLET CORVETTE ZR1
The visual changes over a standard Corvette were subtle: gently widened rear quarter panels, a convex tail and wider tires to fill the wheelwells. This was the first 400hp Corvette since the early 1970s. But its main attraction and what makes them so desirable is that LT5 engine: It's a seriously exotic hand-built 32-valve, all-alloy, double-overhead cam V-8 that's coupled to a ZF six-speed gearbox. Only 6,939 were built.